Creative business web design solutions
and online business strategies
At Create we believe in creativity
We work with people like you,
who know creativity makes a difference
We develop online presence in a beautiful way
so we are successful, we focus on these 3 areas
Do you need a website? Need more visitors? /customers?
Call me to discuss your needs
WEB DESIGN
We create stunning websites, for creative businesses, charities and individuals.
Communicate
to your audience, sell products and services in a beautiful way.
SEO & USER FRIENDLY
We ensure your business is found in google using best practice.
Your website will also be human friendly and easy to use, so people can enjoy your website.
ANALYTICS
We provide analysis of your website using tools such as Google Analytics.
Your data can help us see the changes necessary to improve your online presence.
You need more than a website
Selling artwork online ?
Need galleries set up ?

Selling products or services
Need payment systems?
Organising Events
Need booking systems ?
Generate leads, sales and income
create a business website
Re-develop your website
and online presence ?
Set up social media,
email newsletters ?

Create marketing momentum
Create professional solutions
send us an email,
or call Ady 07870 696942
Portfolio
See a selection of websites created or managed by Create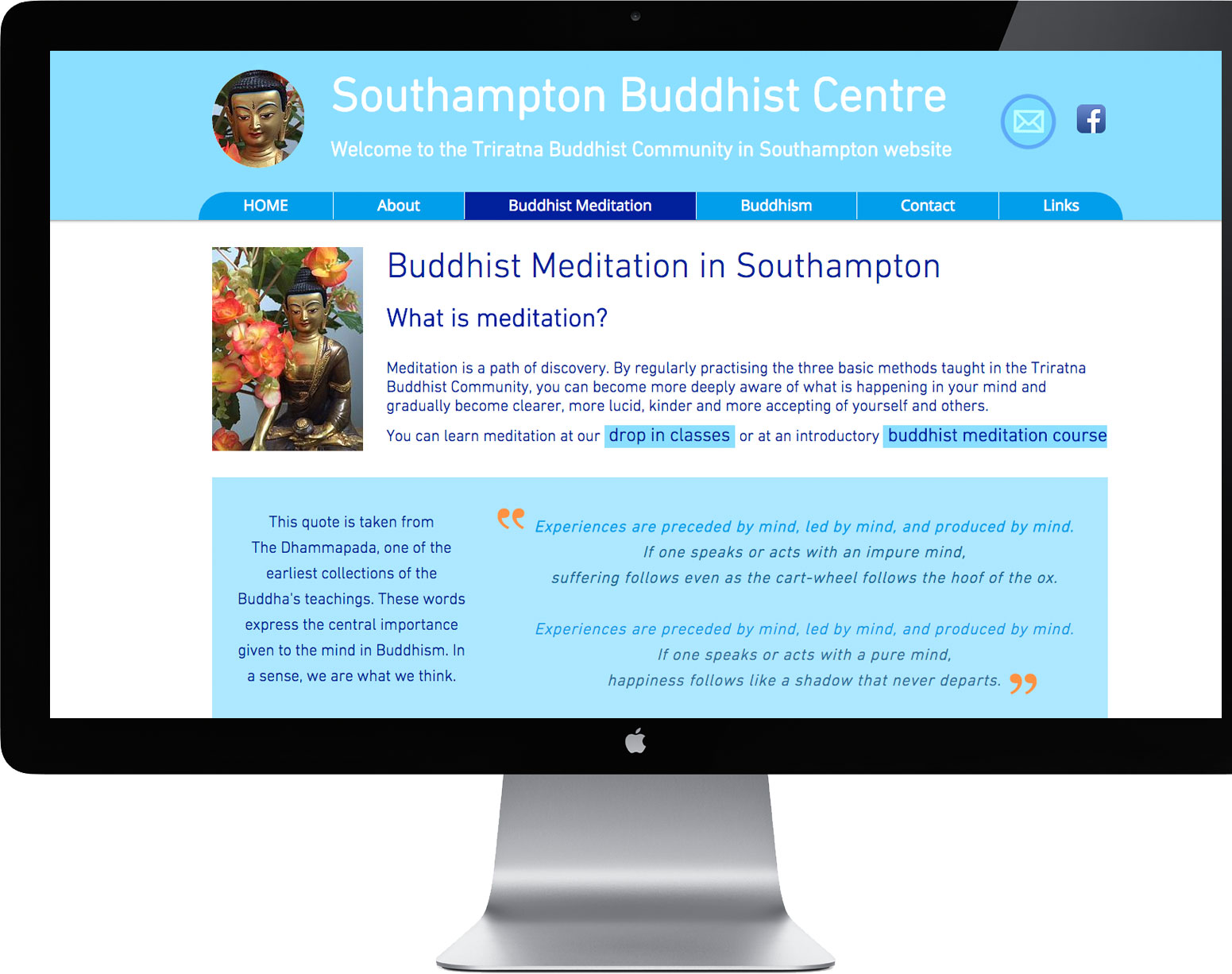 Testimonials
Read what people say about working with me,I have a record of working with award winning creative people, businesses, and charities, see below.
"Ady is a web ENABLER not just a web developer. I had very specific design ideas and wanted to skill-up and build my SquareSpace site myself. Ady gave personalised 1-2-1 training on how to use the platform and then sensitively and robustly supported me to create the website I wanted. He was always on hand for any problems I encountered, and effortlessly developed the more technical requirements of the site so that we went live on time and with no problems. I've since doubled my mailing list. I'm also able to maintain the site myself.
I'm looking forward to learning and collaborating with him again on some in-depth SEO work and to enable my site for eCommerce. I heartily recommend Create Web Design. Thanks Ady!"
WENDY ANN GREENHALGH - ART OF MINDFULNESS
"Excellent functional and attractive site, delivered on budget, on time. Ady is a pleasure to work with. The site often gets us compliments, and more importantly gets us work."
MARK WALSH - FOUNDER - EMBODIED YOGA PRINCIPLES, INTEGRATION TRAINING
"Its been really helpful working with Ady. Having the WEB DESIGN skills and SEO experience makes him invaluable. His sympathetic, knowledgeable and realistic approach is perfect and we would recommend him to everyone"
— PHIL HAISELDEN, ANGEL HOUSE DIRECTOR & OWNER
"Ady transformed our booking process for our art workshops with kids, we now have an e-commerce website, an integrated booking system for workshops,classes and clubs, email newsletter system, its so much easier to manage our business now,
we highly recommend him"

— SHARON MEE, ARTHROPOD ARTS - MANAGER
"Ady has managed our website content including our booking system and paypal in a team for our Wordpress website for a few years, consistently, regularly updating it, developing it and adding new features working in relationship with the team who initially set the website up.

His efforts to improve visitors to our website using SEO tactics created an increase of over 240% to our homepage alone! (which we could see by the data provided by Google Analytics reports he created). Which means more people benefitting from our services, coming to classes, courses, events, and importantly an increase in revenue to support our charity and cause. "

— BRIGHTON BUDDHIST CENTRE - MANAGEMENT TEAM
 
"I set up my company, BilinguaSing (teaching children to learn Spanish and French languages alongside English through singing,movement and other forms of play) on a shoestring in 2013.After using a makeshift 'GoDaddy' web design package for some time, I finally decided I needed to take the plunge and get a 'proper' bespoke website designed to give a more professional look, offer more features etc.
We were beginning to franchise so we needed to create a new website to allow for multiple franchise users to edit their area of the website, with some specific functions, customers to search for their nearest classes and course providers, buy CDs, watch videos of our work and images,/audio,see our blog and sign up to our mailing list. Ady was recommended to me and after our first conversation I knew he was the right designer for me!
Ady and I worked closely together for the initial build and design, to ensure that I was happy with every step of the process. He made me think of better ways of doing things, and the result is better than I could have hoped for! We continue to work with Ady for our ongoing support and maintenance, and he also send us regular google analytic reports and organizes password management of our users,.
I love working with Ady - he is so personable and has taken the time to really understand my business and what I want to achieve with the website. He now feels like an indispensable part of my team and I couldn't recommend him enough!"
ELLIE BAKER -Founder of BilinguaSing Ltd
"Ady has been supporting my ideas and developing a website for my artistic project 'machine women'. He has worked closely with me throughout the process, teaching me as we go, so that I am able to update and continue developing my site.
He really cares about the projects that he takes on, and approaches the tasks in a holistic and creative way. He continually suggested new ideas and ways of working to make a bold, stand out website.
Many Thanks Ady."
LUAN BLAKE - MACHINE WOMEN - DIRECTOR -
Why work with CREATE ?

in web design,
you get what you pay for...
We encourage people to create a website and online presence that is beautiful and functional that will serve them and their business, and yes that requires a realistic investment of time, energy and money ... because your business is worth it

You may think
"I am just going to create a website myself"
(lets be honest, there are many so called "free" and "cheap" solutions out there),
and yes, you can create a simple site,
however, if you don't have the expertise to create your site in a way which is found online
( the SEO skills ) and Analytics (to analyse what is working well or not)
then to be honest you would be doing your company a disservice,
and it will probably cost you lost business opportunities, and lost revenue,
which is more expensive than the cost of a good website.

note: We do offer an option to train and advise you,
and help set up a site you can edit if you have a low budget.
"I don't have time.. I'm too busy running my business..."
Yes, we understand that feeling, however if you don't attend to your online presence
you are missing business opportunities every day,
and letting the competition move forwards while you trail behind, lost in never, never land.

Take a stand, move forwards
Can you afford not to?
We work together with our clients and form creative working relationships
that develop as your company or charity does,
your business is as important as our business.
Make a decision to create business
We have been working in the creative industries for a long time.
 
About Ady Griffiths (Founder of Create),
Ady has worked as a creative in Arts and health organisations and charities since 1993
including Evolution Arts, Brighton Buddhist Centre, and as a freelance artist, designer, teacher/ trainer trading as Inspiring Arts and Health since 2000, with a variety of companies including Same Sky, Creative Partnerships, Creative Futures, and on Arts Council Funded projects.

He began designing websites with a passion in 2008,
with a range of clients from different businesses, sectors and industries including :

Artists and Art Organisations: landscape designers, photographers, painters, performers, ceramicists, musicians, poets and writers
Health Sector : Yoga Teachers, Mindfulness teachers, Counsellors and Therapists

Charity Sector : Arts Organisations and Buddhist Centres

Ady can collaborate with a team of web developers, coders, copy writers, photographers, videographers and online marketers, depending on your project's needs and requirements.
Contact Ady to discuss your ideas
A few FAQS...
"How much will my website cost?"
Every website is costed accordingly to its specific needs, and project requirements. We go through a process of research before web development called Discovery, you can read more about Discovery
"How long will it take to create my website?"
We need to get to know you, your business and what functionality your website needs before we can answer that question, but don't worry we will, thoroughly, and yes we deliver on time, on budget.
"How do we begin? "
Some people don't know. Don't worry, we do! We have helped many people develop a website that best represents them and their business, we start at the beginning... we get to know you, and your business. Discover how
"I want a website I can edit myself"
Good, we can help you with that, we can set up your website in a way which you will feel able to edit your website, and some people already have websites with Wordpress , Squarespace or Wix that need updating or developing, we can do that too...
"I don't have any good photographs, or videos"
That's Ok, I know professional photographers, and I also have a variety of stock library memberships so can help source, and edit photographs (Yes, I can use Photoshop) and edit video (Yes I can use Final Cut Pro and Premiere), and upload it to You Tube or Vimeo.
"How do you write for the web?"
Depending on your needs, we can either work alongside you to gather and create content, or can bring in copywriters to work with you to communicate your message or brand effectively.
"When is the best time to start ?"
Now, contact us to have a free conversation about what you need to see if we can create together.